The People of 1381
This is the website of an innovative new research project set to produce the most comprehensive interpretation of the Peasants' Revolt to date. The revolt was one of the largest popular uprisings in medieval Europe and rocked the country in the summer of 1381.
Led by Professor Adrian Bell from Henley Business School at the University of Reading, 'The People of 1381' will shed new light on the complex economic, social and political dynamics of the rebellion, to enhance our understanding of its cultural impact. We have been awarded almost £1 million in funding by the Arts and Humanities Research Council and will begin on 1st October 2019.
Co-investigators for the cross-disciplinary, multi-institution project are Professor Anne Curry from University of Southampton, Dr Helen Lacey from University of Oxford and Professor Andrew Prescott from University of Glasgow, with Dr Herbert Eiden (Henley) and Dr Helen Killick (Oxford) as post- doctoral researchers. Big data techniques will be facilitated by a team from GeoData at the University of Southampton.
Central to the project is the creation of a database to provide the first overview of events, places and people involved. Judicial and manorial documents will be combined with records of central and local government, poll tax records and more, to reconstruct collective biographies of the people caught up in the rising. The database will be hosted on this website along with digitised primary sources and a regular feature '1381: People and Places Profiles'.
In addition to developing case studies of individual rebels and their victims, the project will be a unique 'history from below', using an unparalleled set of medieval records to investigate the participation of social groups whose role has been little investigated, such as household servants, soldiers and women. It will use Geographic Information Systems to map the development and structure of the revolt, to identify differing levels of community protest and examine how these fitted together.
Community engagement with the project will also be encouraged via two key pathways. A travelling exhibition will visit locations closely linked to the events of 1381, while an education collaboration programme with the Historical Association will include training and materials to be used in schools, as well as a children's poetry competition arranged with the Poetry Society.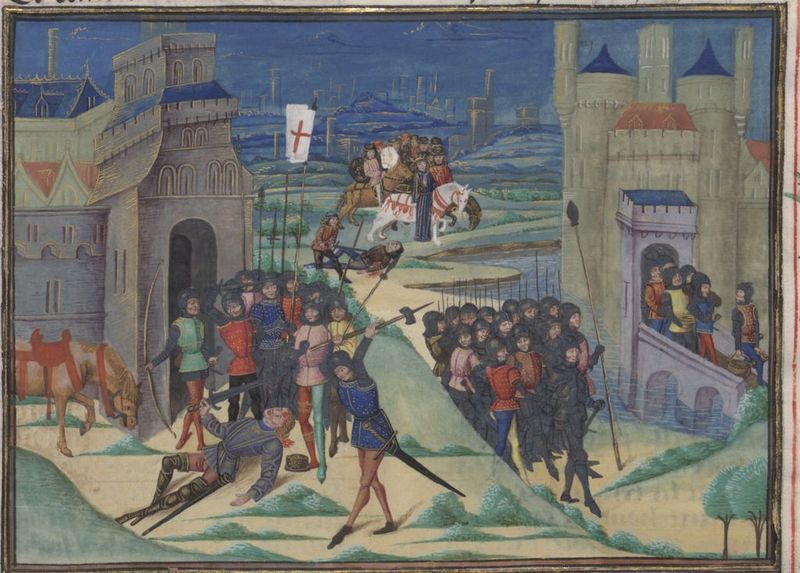 Miniature from Jean de Wavrin, Recueil des Croniques et Anchiennes Istories de la Grant Bretaigne, à present nommé Engleterre, showing, right, rebels entering London in 1381; left, the slaying of Sir Robert Salle by rebels at Norwich; and centre background, the killing of Wat Tyler before the King at Smithfield. The carrying of banners with St George's cross was a distinctive action of the 1381 rebels from Bridgwater to Derbyshire. This manuscript was made at Bruges between 1471 and 1490.
Bibliothèque Nationale de France, MS français 78, f. 96r. Public domain image from https://gallica.bnf.fr/ark:/12148/btv1b6000255b.image